The average cost to move a business is between $750 – $4,000, though depending on the size of the move these costs can go much higher. With over 20 years of experience in the moving industry, we want to use those years of expertise to create a guide that will help you know exactly why your move costs what it does. This way, we can help you avoid being overcharged, or undercharged by a moving company.
If you're ready, please contact us for a quote on your move, or keep reading and find out all of the factors that will influence the cost of relocating your business.
Under Charged What Do You Mean?
If a moving company is charging too little, it could be a sign that their movers will cut corners, or they will not have the right insurance. This can mean that if something goes wrong during the move, it can end up costing you money in damages – either to your possessions or the office itself.
Questions You Need To Ask
So to ensure that you are not taken advantage of, we recommend asking the following questions of any mover you wish to hire:
Are you licensed and insured?
What experience do you have with office moves?
What is your process for protecting and transporting fragile items?
Do you have specialized equipment or services for moving large or heavy items?
Do you have references or reviews from past office moves?
What is your pricing structure and what is included in the estimate?
Do you have any additional fees or charges?
What are your availability and estimated timeline for completing the move?
Do you offer any storage or cleaning services?
What is your policy for damages or lost items during the move?
Any office mover you hire should have general liability insurance and specialized equipment to move large or heavy items. If the moving company you are speaking to does not have these things, you should not use their services. It is essential that the mover has the right insurance because it provides you with protection in the event of any damages. Without this insurance, you could be left with having to pay for potential damages, replace damaged items, or repair any damage to your new office space.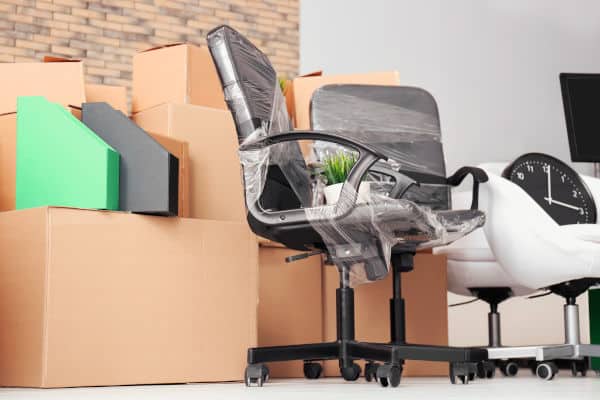 The Factors That Will Influence The Cost Of Your Move
Now you know exactly which questions to ask to correctly vet a mover, so we can cover the factors that will influence the cost of your move.
Distance: The further the move, the higher the cost due to increased fuel usage and time.
Size of office: Larger offices require more time, and thus labor to move.
The complexity of the move: The harder it is to navigate through stairs, narrow hallways, and other obstacles will increase the amount of time required to complete the move.
Fragile or specialized equipment: Specialized equipment requires additional handling and care, which can increase the cost of the move. This can include items such as computer servers, medical equipment, and laboratory equipment.
Packing and unpacking services: These additional services require more time and labor, increasing the cost of the move.
Time of year: Sometimes weather can impact the amount of time a move takes, due to winter road conditions or other factors that back up traffic.
Insurance coverage: Higher levels of insurance coverage can increase the cost of the move due to the added protection provided to your belongings.
Equipment needed: Specific equipment such as dollies, moving blankets, and straps are required to move large office equipment.
The factors that influence the cost of a move are typically those that increase time and labor expenses. That's why we have developed a military-grade moving process to keep our employees focused, efficient, and on task. This allows us to minimize labor and time costs and provide a cost-effective solution for your moving needs.
Related Articles
How Much Does It Cost To Hire A Mover?
Sources
https://smallbusiness.costhelper.com/office-mover.html
Author
Mikhail, also known as Michael, is the owner of M&M Best Movers. He was inspired by his family's experience in the moving business and decided to start his own company in Edmonton. With over 20 years of experience, Mikhail and his team work hard to make moving stress-free for their customers by handling their belongings with care and ensuring a smooth moving process.