Moving You Miles With Smiles
M&M Best Movers: Moving Edmonton Anywhere Across Western Canada Stress-Free
If you need to move outside of Edmonton, we're here to help. Our professional movers are ready to help you move anywhere in Western Canada.
Here at M&M Movers, our mission is simple – Move You Miles With Smiles. This means we want to safely move you and your family wherever you want to go. Our long-distance moving services will take you anywhere in Western Canada with efficient, friendly precision. Using the discipline we learned in the military, we'll help you to most places in British Columbia or Alberta.
Not sure if we'll move to the town or city you are looking to move too? Just give us a call and we'll see what we can do to be of service to you.
Friendly, Efficient, And Experienced
Meet Your Military-Grade Long-Distance Movers
We are always working towards being Edmonton's best long-distance moving company. We do so by taking the foundation our military training has taught us, and constantly seeking new equipment, tools, and processes to improve it. It's all so we can provide you with the least stressful moving experience possible.
And if there is something you need to be done in a particular way, just ask and we will see if we can accommodate you. Our mission is to offer you 5-Star service, and we will work hard to do so, even if that includes wrapping, packing, moving, and helping set you up with storage in your new home city.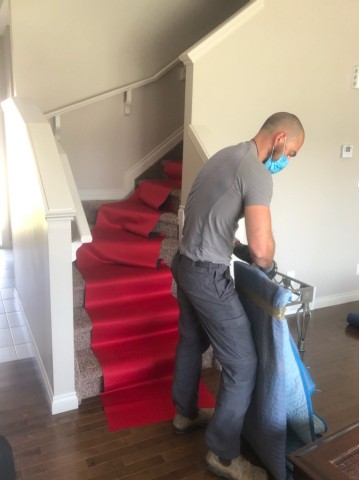 Meet Michael The Owner Of M&M Best Movers
M&M Movers is the perfect choice for your long-distance move. With almost 20 years of experience, we have been helping people move from Edmonton and throughout Alberta and Western Canada. Our military background and Canadian friendliness make us stand out from the rest. We believe in providing trustworthy, straight­forward, and honest service to our clients.
We've developed an efficient and safe moving system that has been perfected over the years, thanks to our military training. Our attention to detail ensures that no item is left behind, and all belongings are transported safely. We're experts in packing and storing, making sure your items arrive in the same condition as they left. Our goal is to make your long-distance move stress-free.
Whether you're moving locally or long-distance, M&M Movers is your one-stop shop for everything you need. Our services are affordable, and we make sure not to waste any time, so you don't have to worry about extra costs. Choose M&M Movers for a smooth, hassle-free move.
Moving You With Integrity
Military-Grade Moving Processes
We've been helping people move for over 20 years.
We Provide Free Quotes On All Long-Distance Moves
Get Your Free Moving Quote with A Call Or Email
Our Moving Process Is Based On Military Expertise
Our Military-Grade Moving Process
At M&M Movers, we understand that planning and preparing for a long-distance move can be overwhelming. That's why we offer a consultation to discuss and understand all the details of your move. Our experienced movers will ask questions to understand the specifics of your move. We will discuss the size of your home, the type of furniture and equipment that needs to be moved, the timeline for the move, any special requirements or considerations for moving certain items, and any parking restrictions or loading dock availability at the current or new location. By gathering this information, we can create a detailed plan to ensure that all aspects of your move are executed as efficiently as possible.
Here Is Our Moving Questions Checklist:
Distance between locations and the number of locations
Amount of heavy equipment that needs to be moved: furniture, appliances, electronics, machinery
If you need assistance disassembling and reassembling your furniture
If we need to arrange storage services during the move
If you need our assistance packing, labeling, and organizing
How many fragile items need to be handled
On the day of your move, our experienced movers will arrive at your home to start the packing process. If you've arranged packing services with us, all you need to do is disconnect and disassemble your electronics. We'll pack everything carefully, wrap it in protective materials, and arrange it in boxes according to the rooms in your new home. Our team will use specialized equipment and processes to load everything onto our trucks, ensuring the safe and secure transportation of your belongings.
We Unload And You Can Enjoy Your New Home
Our job isn't finished until everything is exactly where it needs to be. We'll unload your possessions from our trucks and place them in the appropriate rooms based on the floor plan discussed during the planning process. We'll help set up and assemble any furniture that was arranged during the planning process, and we'll perform a final clean-up and quality check to ensure that everything is in working order.
After we've completed our work, we'll leave you to enjoy your new home. If you'd like, we can even unpack for you, based on a detailed plan of where everything should go. Our friendly and professional team will take care of the details so you can settle in and start enjoying your new home stress-free.
OUR CLIENTS SAY
M&M Movers - St. Albert's Military Precision Movers -  With Over 80 Reviews

Mulu Is A Great Mover


Appreciate all the 3 guys. Mulu is an excellent coordinator & hard working.
Every of my items was carefully handled.

Great And Polite Movers


I contacted M&M Best Moving based on their google reviews and I highly recommend their services to anyone needing movers. They were extremely punctual, polite, respectful, worked well together and came fully prepared with all the equipment needed to complete the move. They got the job done very quickly and efficiently and at a great price compared to other companies that we contacted for a quote. Thank you M&M Best Movers for making this move stress free.
Please consider them for your next move!!!!
Long-Distance Movers Are Ready To Help You
We've Been Helping People Move For 20+ Years
What Other Questions Can We Answer?
Making a move to another City or Province requires making careful considerations, so let us help you answer some of the most common questions you should be asking your moving company.
FAQ
Frequently Asked Questions
Why Should We Hire You For Our Move Across Canada?
We are a small family-owned moving company, which allows us to keep our overhead low and the quality of our work high. Also, our military-grade moving process ensures that all of your belongings will reach their destination safely.
How Much Does A Long-Distance Move Cost?
There are a number of factors that influence the cost of making a move – the number of possessions to be moved, the size of the truck needed, and most importantly how far we need to travel. With a long-distance move, a lot of time is required to make your move, so costs are often more than $2000.
How Far Do You Go?
We will travel throughout most of Western Canada, though there are some places we cannot go as the infrastructure does not support the weight of a moving truck.
Do You Move Heavy Objects?
Yes, we can move pianos, heavy furniture, pool tables, gym equipment and more. We use a combination of tools and equipment so we can protect ourselves and your valuables.
Do You Offer Any Discounts?
We do not offer any set promotions at this time, but we do offer promotions for students and seniors.