Moving to another part of the country can be the start of an incredible adventure—but most adventures come with certain risks, and moving is no different. You're about to pack your entire life into boxes and ship it over hundreds of kilometers in a stranger's truck, after all. It's okay to be a little nervous!
Fortunately, long-distance moves are nothing to worry about, as long as you take the right precautions to ensure the safety of your belongings ahead of time. But, a long-distance move is more involved than moving locally. Let us explain what to consider when planning your next cross-country move so that you can make sure everything goes off without a hitch (pun intended).
How is a Long-Haul Move Different from a Local One?
The differences between local and long-distance moves might not seem obvious at first, but they exist—and they're important. Here are a few of the most significant ones:
You'll Have to Put Your Mover In Charge
When you're renting a truck or a minivan to schlep some goods across town, forgetting an item or two is no big deal. As long as you still have the vehicle, you can always double back to get them.
But when you plan a long-distance move, you put your mover in charge the moment your goods pass from your hands into their truck. Remember: they've got a schedule to keep that may include other clients and their belongings, so once they're gone, they can't turn back. Make sure whatever you want to be moved is in the truck by the time it leaves.
You'll Face Higher Costs
We'd be lying if we told you long-distance moves weren't more expensive than local ones. They are, but there are good reasons for that.
Long-distance moves typically use large trucks with trailers instead of pickups or vans. These vehicles require trained operators, are less fuel-efficient, and cost more to maintain—so your moving company has to charge more to use them.
Your driver will also be spending a lot more time behind the wheel in a long-distance move, so you're paying for that as well. And of course, the truck will be covering a far greater distance, which would mean using more fuel even if they weren't driving a bigger truck.
The average cost of a local move in Canada is $600-$1700 if you use movers. But most long-distance moves start at around $1000 and go up from there, depending on the factors mentioned above.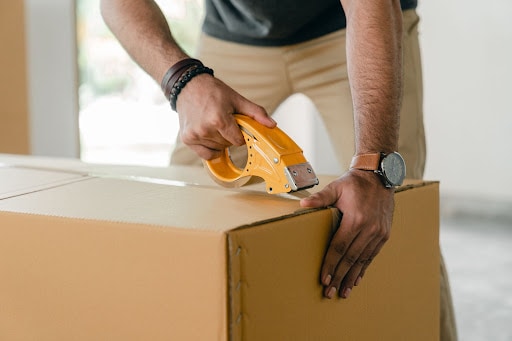 What Should You Consider Before Hiring a Moving Service?
Not all moving services are equally convenient—or reputable. Before you choose the movers for your upcoming long-distance move, it's critical to think about a few things:
Is your mover certified by the

Canadian Association of Movers

? As Canada's only trade association representing movers and storage companies, and their certification is often a good endorsement of a mover's credibility.

Is your mover listed in the Better Business Bureau? The BBB can't necessarily tell you how

good

they are, but it can let you know whether they're a real business that other people have heard of. Fake moving companies exist, so beware!

Does your mover have a local presence in both the city you're leaving

and

the city you're moving to? This isn't always necessary, but it can allow you to find help faster in the event of a problem with your move.

Does your mover have a physical address? Companies with no physical offices or facilities may be scam artists posing as legitimate businesses.

Will your mover provide their estimate in writing? Over-the-phone quotes aren't reliable because they can't be verified—so don't trust them.
Finally, never provide a large deposit for your move up-front. Why would you ever give someone a significant amount of money for a job they haven't done yet? Many reputable movers will ask for a deposit of some kind—but it shouldn't be more than 25% of the total cost, and it should never be over 50%.
How Can You Make Sure Your Items Aren't Damaged During the Move?
If you've ever moved before, you know the last thing you want is for your property to get damaged on the way to its destination. And unfortunately, more time on the road means more bumps, sharp turns, and other hazards to your furniture and other items.
That said, here are some suggestions for keeping your things safe during a long-distance move:
Ask the Mover What They'll Do to Protect Your Items
Most movers will take a few basic steps to prevent your items from sliding around in the truck while it's on the road. They'll pack the truck tightly, making sure items don't have room to shift—and they'll normally lash heavy things like bed frames to the sides of the truck with buckles and straps. But beyond that, it's usually up to you.
Wrap Anything You Don't Want Scratched
Your furniture might be sturdy, but it can still get scratched from rubbing against other objects. Use blankets or foam pads to cover any surfaces you want to keep scratch-proof.
Pre-Pack Sensitive Items
Cardboard boxes, styrofoam pills, and bubble wrap are three of your best friends when it comes to long-distance moves. If you're shipping delicate items like appliances, musical instruments, or artwork, you need to pack it up securely before the move.
Finally, use packing tape to seal any boxes you've placed these items in. Masking tape won't do; it tends to come loose easily and can result in your items spilling out of their safe place.
What Questions Should You Ask a Mover You Are Considering?
Even if you think you've found the perfect moving company, it's always a good idea to ask your potential mover some questions before you agree to using their services. Here's a handy list of questions to ask before hiring your mover—and don't worry about offending them; any mover worth their salt should expect you to ask these things:
What forms of payment do you accept?

What are the additional costs if I need to add extra items on short notice?

Will I need to pay a deposit up front, and is it refundable or held as a penalty to cover cancellations?

How will you protect my belongings during the move?

When will you take inventory of my items (provincial transportation regulations require movers to inventory items and recommend they tag and list each item)?

How and when will you provide me with a copy of the inventory for my records?

How much are you liable for if my goods become lost or damaged during the move?

Does your amount of liability change for items I pack myself?

How can I make a claim, and are there any time limits for doing so?
Using the information above, you should be able to hire an effective mover without anxiety or undue risk. For more information about how to make your long-distance move a success, contact us and speak to someone on our team who can answer your questions in detail.
Author
Mikhail, also known as Michael, is the owner of M&M Best Movers. He was inspired by his family's experience in the moving business and decided to start his own company in Edmonton. With over 20 years of experience, Mikhail and his team work hard to make moving stress-free for their customers by handling their belongings with care and ensuring a smooth moving process.